Some of the links in this post are affiliate links. This means if you click on the link and purchase the item, I will receive an affiliate commission(No Additional Charge to You). The commission I earn will be used for creating great content in this blog and thank you for your support.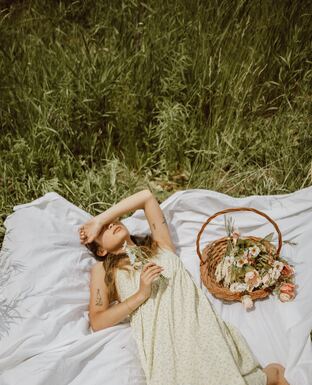 Wanna wear cottagecore outfits effortlessly? All you need to do is have a cottagecore capsule wardrobe and be creative with the cottagecore wardrobe essentials!

In this post, I will show you what you really need in your cottagecore capsule wardrobe. Plus, some useful fashion tips related to the cottagecore aesthetic.
Before that, if you are also looking for places to shop for cottagecore clothes, this is the post you may want to see:
Where To Buy Cottagecore Clothes?
Alright, let's check what are the cottagecore wardrobe essentials!
Cottagecore Capsule Wardrobe Essentials
Cottagecore Clothes
Blouse
A blouse is one of the most important items in your cottagecore capsule wardrobe. For the cottagecore aesthetic, you don't need a mannish shirt or a casual t-shirt (it's optional), but you absolutely need a feminine blouse to match with different types of cottagecore skirts (which I will mention later) and create various cottagecore looks!

Cottagecore blouses are not specific, but I can give you some examples of what kinds of blouses are good for cottagecore outfits:
Feminine Blouse
Puff Sleeve Blouse
Shirring or Smocked Blouse
Ruffled Blouse
White Blouse
Lace Blouse
Peasant Blouse
Collared Blouse
Tie Front or Lace-up Blouse
Square Neckline or Sweetheart Neckline Blouse
Blouse that is Not Too Formal


Corset or Bodice
Corset and bodice are good to wear on top of a blouse, especially a white blouse. With just one corset or bodice, your cottagecore outfit will not only be much upgraded but also have a vintage vibe. When matching a corset or bodice with your blouse, it's nice to use different colors or prints as an accent. If you wear it properly, people will admire your stylish look, even in modern times.

Cardigan or Sweater
If you can only choose one type of outerwear for your cottagecore capsule wardrobe, nothing is better than a cute, cozy, and warm cardigan.

It's ok to match a simple cardigan with your cottagecore outfits. But if you can dress better, why not? Let me give you a few options that will help you create outstanding cottagecore outfits:
Cable Cardigan is textured and has a three-dimensional look that feels very lively.
Patterned Cardigan makes the outfit less boring and cuter.
Embroidered Cardigan has a vibe that is more delicate and refined.
Sweater is an alternative to the cardigan. Good to wear when you get tired of wearing cardigans.

Midi or Maxi Flared Skirt
Midi or maxi flared skirt is absolutely a must-have! It's a basic skirt that can match most of your cottagecore tops.

Whether it's a skirt with ruffles at the bottom, a high-waisted skirt with lace-up detail, a white eyelet skirt, or whatever, they will all give your cottagecore outfits a touch of romantic vibes.

Skirt with Pockets
I don't know if you feel the same way or not but a skirt with pockets reminds me of a vintage apron with pockets that women often wore when they work at the farm in the past.

A skirt with pockets (especially big pockets) is not only visually adorable but also makes the person who wears it look carefree.

Besides the skirt, you can wear apron dresses or other dresses with pockets too.

Layered Skirt or Skirt with Petticoat
We can talk about this type of skirt from two perspectives. One is that it looks like a skirt with a half apron (also known as a waist apron) on top. And the other is that it resembles Victorian clothing which also influences the cottagecore aesthetic.

You can have a girly cottagecore look with this voluminous skirt, especially with the lace or eyelet detail.

Tiered Dress
Did you notice that? One of the features of cottagecore clothes is the loose fit! For example, puff sleeves, flared skirts and dresses, etc. And you can see that throughout this post. On the contrary, it's relatively hard to see a tight fit in cottagecore clothing (except for the tight waistline for emphasizing femininity).

I guess loose-fit clothes are comfortable and casual, even have free-spirited vibes and therefore, they somehow match the concept of cottagecore aesthetic.

Tiered dresses are also typical loose-fit dresses and I have seen so many tiered dresses that perfectly suit cottagecore outfits like sleeveless tiered dresses, milkmaid tiered dresses, gingham tiered dresses, and more. They just look so lovely!

Additionally, you can consider tiered skirts too but some tiered skirts feel like bohemian or gypsy skirts so I would recommend tiered dresses rather than tiered skirts.

Sleeveless Dress
A sleeveless dress is one of the cottagecore capsule wardrobe essentials because you will need that in the hot summer.

And I want to let you know that spaghetti strap dresses and tie shoulder dresses (also known as tie strap dresses) that have cottagecore vibes are extremely beautiful.

It's a waste if you don't wear them as your cottagecore dresses in the summer!

Apron Dress, Pinafore Dress, Overall Dress
Apron dresses, pinafore dresses, and overall dresses are super cute. And they are excellent items for transitional seasons like spring and fall because they are good to pair with tops, whether it's a short sleeve top, long sleeve top, blouse, shirt, or even t-shirt.

It's always nice to try pairing different tops with different apron dresses, pinafore dresses, or overall dresses to create fresh cottagecore outfits. By experimenting over and over, I'm sure your styling skill will gradually improve too!

Moreover, when you no longer want to wear feminine clothes like skirts or dresses, don't worry, overalls and overall shorts are waiting for you!

Milkmaid Dress
If you're sort of familiar with cottagecore aesthetic fashion, you probably know how trendy and popular milkmaid dresses are! (Literally, women are crazy for this type of dress!!)
Milkmaid dresses feature square or sweetheart necklines (or any neckline that is similar), puff sleeves, tight waistlines, and A-line or flared bottoms, which resemble traditional milkmaid's clothing.

There are also many variations such as milkmaid dresses with different lengths, milkmaid dresses with slits, milkmaid dresses with different patterns, etc.

Because of the hyperfeminine design, this is a magical dress that will elevate your femininity to the top.

If you don't have a milkmaid dress yet, it's time to get the one that you like and join the cottagecore community! (It's never too late!)

Peasant Dress or Prairie Dress
It's kind of hard to define what peasant dress is because there are a variety of peasant dresses, common qualities are a wide neckline, bishop sleeve, elastic waist, loose-fit, A-line or flared bottom, and folksy look. Some of them have beautiful embroidery and ethnic pattern.

On the other hand, prairie dresses are somehow similar to peasant dresses but the neckline of prairie dresses is higher, and mostly they have ruffles. Traditionally, prairie dresses have a plain and modest look even if some dresses are made of printed fabrics, and a touch of nostalgic vibes.

Just like milkmaid dresses, peasant dresses and prairie dresses have a traditional and rustic look. But that doesn't mean they are ugly or outdated, instead, they can be modern depending on how you style them. (It's gonna be easy for you when you pair them with other cottagecore capsule wardrobe essentials.)

Plus, peasant dresses and prairie dresses have been redesigned and remade, and there are tons of stylish ones you can choose from. Wear your favorite peasant dress or prairie dress confidently and let others admire your cottagecore outfits!


Gingham Clothes
Gingham is one of the best patterns that represent the cottagecore aesthetic.

Even though sometimes gingham clothes have country looks, as long as you choose the clothes with the right design, your gingham clothes will be very refreshing and conspicuous.

Any gingham clothes are acceptable for a cottagecore capsule wardrobe. But if you don't know where to start, I recommend getting a gingham top (blouse, collared shirt, etc.) or a gingham dress (tiered dress, milkmaid dress, etc.) first!

By the way, in addition to classic gingham clothes, you can try other types of checked patterns for your cottagecore outfits as well.

Floral Clothes

Floral clothes are something that we need for brightening up our cottagecore capsule wardrobe and cottagecore outfits.

Besides the classic floral dresses such as daisy dresses, I also highly recommend blouses, jeans, denim shorts, and overalls with floral embroidery!

If you're interested in flower-inspired clothes and outfits, I've got a post for you. You will see a great number of floral clothes and accessories and how fascinating they are in the post below.
Patchwork Clothes
It is said that sewing is one of the cottagecore activities. If we live in a cottage that is far from the city, I'm sure we need to sew clothing by ourselves since it's not that easy and convenient to buy new clothes. And patchwork clothes could be one of the clothing that we make.

It's not weird at all to wear patchwork clothes as part of your cottagecore outfits. Instead, it could be very fashionable if you choose the right one.

My suggestion is to try not to get patchwork clothes whose prints and colors are too bold, that kind of looks like a bohemian, hippie, or gypsy style. Try to get patchwork clothes that are relatively understated, and whose pattern is related to cottagecore like gingham and floral prints.

Linen Clothes

Linen is a natural fabric that perfectly fits the concept of the cottagecore aesthetic.

In addition, linen (especially organic linen) is more sustainable than synthetic fabrics. In other words, wearing organic linen clothes is helpful for protecting the earth we are living on.

Organic cotton clothes are nice too but they are not as recognizable as linen clothes. So I would say linen clothes are slightly preferable to cotton clothes for dressing cottagecore outfits.
Where To Buy Linen Clothes Online?
Buttoned Clothes
Compared to zippers which have a strong industrial image, buttons have a cottagecore image because they are often sewed by hand.

And if you look closely, you will realize that it's quite common to see buttons on a variety of cottagecore clothes. (Or we could say lots of buttoned clothes are fitting for cottagecore outfits.)

We can tell that buttons are not only functional or decorative objects in clothing but also a kind of symbol of cottagecore fashion.

Cottagecore Accessories
Straw Hat
We all know that straw hats are practical fashion items that protect us from sunlight. But did you know that straw hats also look pretty good with cottagecore outfits?

Whenever the weather is hot or you go doing outdoor activities like picnics, gardening, or whatever, it is never a bad thing to add a cute straw hat to your cottagecore outfit!

Handkerchief or Hair Scarf
Handkerchief and hair scarf are really easy to carry. Either wear it on your head like the picture to have a classic cottagecore style or tie it to your straw/rattan bag. That way, both your hairstyle and your bag will have a fresh look!

Hair Bow
To create an extremely girly and romantic cottagecore look, a hair bow is what we can make good use of. Here is a tip, match the color of your hair bow to the color of your clothes or other accessories, and your cottagecore outfit will be flawless.

Jewelry
Any jewelry that is inspired by nature such as flowers, leaves, fruits, mushrooms, insects, forests, woods, pretty stones, etc. would be decent cottagecore jewelry. It is ok to have one piece of versatile cottagecore jewelry and pair it with various cottagecore outfits. And if you are a true cottagecore aesthetic lover, you can have different types of cottagecore jewelry to diversify or upgrade your cottagecore looks!

Straw Bag or Rattan Bag
Bags made of straw or rattan have natural, tropical, relaxed, and sometimes country vibes. That is why they are so popular in summer and women love to pair them with casual outfits or carry them when they go to the beach, go picnicking, go on a vacation, etc.
Straw bags and rattan bags are not only suitable for going to the beach but also suitable for going to somewhere that has grass like a park, a hill, the countryside, and so on.

Imagine you are at one of the places I mentioned, and you are wearing your favorite cottagecore clothes and a straw bag… Did you feel that? What a perfect cottagecore outfit!

If you think a basic straw/rattan bag is a little bit boring, I recommend tying a cute ribbon or a scarf to the handle or strap of your bag, and your bag will have a new look.

Socks
Although it's fine to wear cottagecore outfits without socks when you wear sandals or heels, I don't want you to miss out on any opportunity to complete a great cottagecore outfit.
Plus, if you want to wear cottagecore outfits in fall and winter, a pair of socks is a must!

There are so many cute cottagecore socks you can take advantage of. For example, patterned socks, ruffled socks, lace socks (good for summer because they are thin), and more.

Find a pair of cottagecore socks that you love the most and pair them with mary jane shoes, sneakers, or basic loafers. That will make your cottagecore outfits remarkably adorable!

Shoes
If you have completely no idea what kind of shoes you should match with your cottagecore outfits, a pair of mary jane shoes will be great as your very first cottagecore shoes since they fit most of the cottagecore outfits.

When you get tired of mary jane shoes, you can try different styles such as sandals, loafers, and sneakers like I said earlier.

---
Those are the best cottagecore capsule wardrobe essentials that I want to recommend to you. Leave a comment below and let me know which cottagecore capsule wardrobe essentials attract you the most! Finally, I hope this post inspires you a little bit to create your own cottagecore outfits!
Learn More About Cottagecore Aesthetic Fashion!