Some of the links in this post are affiliate links. This means if you click on the link and purchase the item, I will receive an affiliate commission(No Additional Charge to You). The commission I earn will be used for creating great content in this blog and thank you for your support.
Heels are women's favorite. And you know what? They are guys' favorite too.

Heels can not only make women feel confident but also can let guys think she's attractive. What a win-win!

In this post, I'll tell you the TOP 11 sexy heels with 11 secrets that can steal the heart of the guy you like. Are you ready?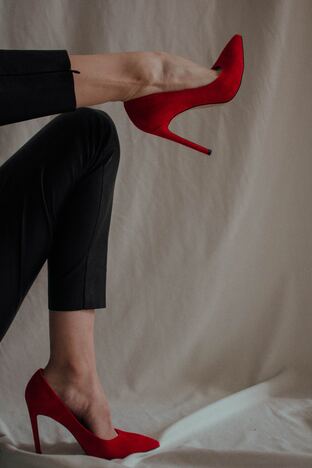 The Classic Sexy Heels
High Heels
Imagine a little girl wearing a pair of high heels, it's just so awkward! Instead, it's very adorable when a girl wearing flats. It's interesting that the heels will get higher while the girl grows up.

High Heels are the symbol of women. And guys are attracted to women (not a girl!). Just remember, the higher, the sexier. By the way, you better not wear super high heels unless you love to. Because it's super hard to walk with those heels and it may frighten the guy making him don't wanna approach you. Trust me, the regular high heels are pretty enough.

If you don't have any high heels, it's time to get a pair of basic design and solid color high heels. It's gonna match most of your clothes.

Stiletto Heels
Stiletto Heels are the type of heels that have very thin heels. Because of that, they seem delicate yet classy. However, Block Heels are the opposite of Stiletto Heels. The heels of block heels are so thick, just like blocks.

Block heels may "seem" ponderous (actually they are not) but it's a truth that wearing block heels is way more comfortable than wearing stiletto heels. I have to say, being an attractive woman (wearing Stiletto Heels) needs some guts.

Here is the Easiest Way to be a Sexy Woman:
Get a pair of Stiletto Heels
Start practicing walking with these heels
Get used to them
Became More Confident, Sexier, and More Attractive
Don't wait or hesitate! Do it NOW!

Sandals
Pumps and Boots are quite sexy too. But the main reason why I said Sandals are "slightly" sexier is that Sandals reveal the skin more.

Guys are Visual Animals without a doubt. Men feel excited when they see women wearing bikinis, mini skirts, etc. (You know what I mean) So it makes sense that Sandals are one of the sexy heels.

Please don't wear flip-flops or outdoor slippers to meet the guy you like. Replace them with a pair of nice beautiful sandals!

Black Heels
Just like the Black Mini Dress is one of the sexy dresses, Black Heels are also one of the sexy heels.

Black is cool, chic, sophisticated, professional and men (even women) like the woman who has these characteristics.

Plus, Black is an all-purpose color so it's quite a great investment to get a pair of black heels. You can wear the same black heels on casual and formal occasions. What a great deal!

By the way, if you are curious about what's the other Sexiest Color, you can see my other blog post: How to Wear the Sexiest Colors Perfectly?

Pumps
Smart women know that pumps are one of the best investments they made.

Pumps are more formal than other sexy heels, so it's pretty easy to look sexy and professional at your work. Also, they look good with jeans and dresses too. That means you can be stylish effortlessly at any time and anywhere as long as you're wearing a pair of pumps.

When you choose the pumps, I highly recommend the black pointed-toe pumps with stiletto heels (which are the mix of three other sexy heels). Other pumps are just not as sexy and classic as these ones. I don't recommend the platform pumps because they look clumsy, relatively less sexy, and less classy.

The Hottest Sexy Heels
Pointed Toe Heels
Round Toe Heels are Cute and Lovely.
Square Toe Heels are Unique and Cool.
Pointed Toe Heels are Chic and "Sharp".

A great thing about Pointed-toe heels is that they have the magic that can make your legs look slimmer and longer.

If you search what kind of heels celebrities wear on a red carpet, most of the time, you will either see sandals or pointed-toe heels.

That proves that pointed-toe heels are one of the best sexy heels to make the one who wears them even more gorgeous.

Mesh Heels
Mesh Heels are like the shoe version of Fishnet Stockings with some trendy designs. Well, how can it be not HOT?

Mesh Heels and Clear Heels (which I will mention below) are see-through type heels. Just like clothes, people can slightly see the skin inside. And that's where the sexiness is and why they are sexy heels.

Mesh Heels are quite new and trendy, which means they may attract men's attention and make them look at you more than once!

Strappy Heels
Shoes and clothes with straps are always sexy. Among the strappy heels, Lace-up Heels are probably the hottest and sexiest one.

Lace up Heels are a kind of Strappy Heels that have long laces to lace up along the calves. The great thing about these heels is that you can lace them up differently. Every time you find a new way to lace, you get a pair of brand-new heels.

Wearing Lace up Heels will take your sexiness to another level. All you need to do is invest in only one pair of Lace up Heels!

Chain Heels
Imagine you are wearing a pair of chain heels, the chain is dangling while you're walking. Just like earrings dangles around your face and make you look stunning, the Chain Heels are the eye-catcher that makes you look gorgeous.

The most common color of a chain is gold and silver. Gold is more feminine and Silver is chicer. If you wanna attract the guy you like, it would be better to choose the gold one. This not only applies to Chain Heels but also applies to regular accessories such as earrings, necklaces, bracelets, rings, etc.

A pair of basic chain heels without any charm is beautiful enough, but if you wanna make it more stylish, you could choose the chain heels with the charms.

Clear Heels
A pair of nice Clear Heels can make you seem like you're not wearing shoes, which already attracts all the people's attention!

Remember I said men are visual animals? I am sure that when guys see you wearing clear heels, they really can't resist looking at you and your beautiful feet.

Clear Heels is the real version of Cinderella's glass heels. And you know what? They are not expensive at all, instead, they are quite affordable. If you have beautiful feet, it's a waste not wearing clear heels.

If you want to wear clear heels but worry about your feet are not pretty enough, the easiest way is to skincare your feet regularly and put some cute colors on your toenails before wearing the clear heels!

Animal Print Heels
Animal Print equals Sexy and Confidence. It is a classic and stylish pattern, in other words, it is barely out of style.

Wearing animal print from head to toe is a little bit too much. Instead, it's just enough to wear animal print for one item such as heels!

I highly recommend matching solid clothes (which means no pattern or print) with animal print heels. So that they make a good balance. Try it on your next date and see how it works! You will know how beautiful your outfit is and how stunning you are!

Those are my top sexy heels which I think every woman should have a pair in their wardrobe, cause you never know which one is your and your man's favorite!

Also, if you are a fashionista or a fashion lover, I believe it's the perfect chance to collect one of the sexy heels that you don't have.

I love to encourage girls and women to try the outfit they haven't tried before. Because whoever you are reading this post, you're like my bestie. I love to see you getting more attractive and gorgeous, and I know you will enjoy the moment too.

So dear my friend, would you let me know which one is your favorite sexy heels? And how about the secrets? Do you have any idea about sexy heels which is not in this post but wanna share with me?

Leave a comment and let me know. I will be so happy to hear it! And I will see you in the next blog post!