Some of the links in this post are affiliate links. This means if you click on the link and purchase the item, I will receive an affiliate commission(No Additional Charge to You). The commission I earn will be used for creating great content in this blog and thank you for your support.
How to look like a mature woman instead of a little girl? How to look more mature to be admired and respected by people? How can I look stylish and mature at the same time?

If you have questions like that, I am going to answer all of them in this post.

In this post, you will see…
How to act like a mature woman
How to dress to look more mature
How to be the woman you want to be (If you wanna learn more!)
Alright, let's get started!
How to Look More Mature?
1. Act Like A Mature Woman
The most efficient way to look more mature is to learn from and model the person you want to be. So the first thing you need to do is turn your mind into a mature woman's mind and act like a mature woman.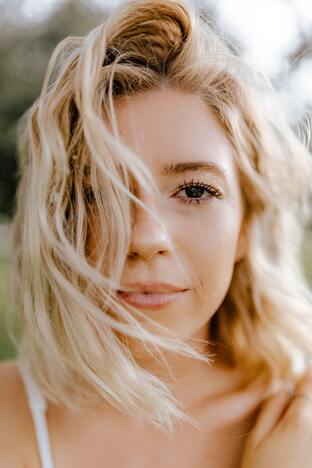 Ok…so what should I do?

Instead of faking it, I want you to develop the habit of behaving like a mature woman. Meanwhile, you have to stop being like an immature person so that you can genuinely look more mature.

If you don't know where to start, I highly recommend you start with the dos and don'ts below:
Dos
Be Independent:
Start solving problems by yourself and only ask for help when you really need it.
Manage Yourself:
Become a person who is more productive, more efficient, and is good at taking care of your health, time, and money.
Be Clean:
Clean your living space regularly, and most importantly, make yourself look clean all the time. If you look clean, that means you are a person who is good at self-management, and that's how you look more mature.
Don'ts
Be sleazy:
This is immature people's behavior and all the things below are considered sleazy.
Wear clothes that show too much body:
People often link a girl who shows too much body to a superficial person.
Be greedy or Take advantage of others:
I would say people who are greedy and take advantage of others are very short-sighted.
Be rude or say curse/swear words:
If you are not rude or don't say any curse/swear words, that means you have a higher EQ(Emotional Quotient or Emotional Intelligence) than other people who do.
2. Wear Makeup
Makeup is like magic that not only makes you look good but also makes you a completely different person. And that's why we need to take advantage of that.

Here are some tips to wear makeup that looks mature:
Try arched eyebrows instead of straight eyebrows:
Straight eyebrows tend to look cute and innocent, which make you look younger. On the other hand, arched eyebrows will make you look more charismatic and lively. That's why most mature women love to have this type of eyebrows.
Use dark or neutral colors (which I will mention later) on your lips, cheeks, and eyes:
For example, if you wanna look mature and sexy, put on burgundy lipstick rather than a pink lipstick.

3. Wear Dark & Neutral Colors
Let me give you examples of dark colors and neutral colors, and tell you why they can make you look more mature.
Dark Colors
Dark Colors Examples:
Burgundy
Brown
Hunter Green
Navy
Wine
Mauve
Marsala
Terracotta
Black
Any color that is light and soft looks young. On the other hand, dark colors look mature because they give people the feeling that they are calm, steady, and professional which are the same feeling when people think about a mature woman.
Neutral Colors
Neutral Colors Examples:
Ivory
Beige
Khaki
Nude
Camel
Caramel
Gray
Tan
Taupe
Mature women love neutral colors because they are classic and fashionable, which means you can be stylish effortlessly by using these colors. Also, they are perfect colors to create sophisticated style outfits (I will talk more about this in the next section).
Apply these colors to your makeup and outfit, then you can easily have a mature look!
4. Wear Classic & Sophisticated Style Clothes
Instead of following the latest fashion trend, mature women prefer having their own fashion style. Because they know it is smarter for them to be stylish in one style and use most of the time to focus on their goals rather than thinking about what to wear.

For example, Anna Wintour (Editor-in-Chief of world-famous fashion magazine Vogue) always has the same hairstyle and wears the same sunglasses.

Keeping your personal fashion style is one of the ways to look more mature. But if you have no idea how to start, you can always start with classic and sophisticated fashion styles which are mature women's favorites!

Before showing you what type of items are classic and sophisticated, let me briefly tell you what is a classic style and what is a sophisticated style:
Classic style means something or someone is fashionable timelessly. It means you can ALWAYS be stylish by wearing classic style clothes.
Sophisticated style means something or someone looks chic and professional just like a city woman who has urban tastes.
Last but not least, these are the fashion items that are classic, sophisticated, and will absolutely make you look more mature!
Blouse
Pencil Skirt
Midi/Maxi Skirt and Dress
Slacks
Wide Leg Pants
Blazer
Trench Coat
Wool Coat

5. Wear Quality Bags & Shoes
The reason I want you to wear quality bags and shoes is that in that way, people will think you have the ability to afford the money you pay, which looks like a mature woman.

Don't spend money on what you can't afford, that is very silly and not mature at all. Get the good quality bags and shoes that you like, look good, and can wear for a long time.

These are the bags and shoes that relatively can make you look more mature and also good to match with classic and sophisticated style outfits:
Clutch Bag
Baguette Bag
Handbag
Loafers
Pumps
Point Toe Heels
P.S. Wearing heels always look more mature than wearing flats or sneakers. If you wanna see some sexy heels, you can take a look at this: 10 Flawless Sexy Heels that Attract the Guy You Like

---
Those are my best tips for how to look more mature. If you wanna learn more about being the woman you want to be, you can check out these posts.