Disclosure: Some of the links in this post are affiliate links. This means if you click on the link and purchase the item, I will receive an affiliate commission(No Additional Charge to You). The commission I earn will be used for creating great content in this blog and thank you for your support.
A pair of booties are one of my favorite types of shoes. Almost every fall/winter season I will buy a pair of booties with a new style which I haven't tried before and I will wear them for the whole winter.

Every time I try the new booties I feel so excited and satisfied about that. And of course, one of the booties I bought was heeled black booties. (They are still one of my favorites!)

Since I love booties so much and I was thinking "Why don't I share how fascinating they are and the benefits about them to my readers?", so I decided to write this post.

In this post, you will see Why You Better Buy Heeled Black Booties, What to Pair with, and lots of different types of Heeled Black Booties that are recommended.

By the way, if you are interested in other types of heels, you can check this out: 11 Flawless Sexy Heels That Attract The Guy You Like.

Alright, let's get started.
Why You Should Buy Heeled Black Booties?
Let's see the benefits of having Heeled Black Booties directly:
A pair of boots or booties are like your best friend that can company you for a long time. I always buy one pair of high-quality and stylish booties that can company me for the whole winter. And I don't get bored with them because I always change my outfit and try to create a new look with my beloved booties.
They not only keep your feet warm in winter but also keep you stylish in summer, plus they are must-haves in transition seasons, which means you can wear them all year round!
As I said, you can create tons of different outfits with just one pair of Heeled Black Booties.
A pair of nice heeled black booties will make you Chic, Sexy, and Cool.
Besides, if you keep reading, you will find more benefits than those!
What types of Heeled Black Booties are Chic & Quality?
Heeled Black Booties with Special Toe Shape
Black Pointed Toe Booties
Pointed-toe shoes are always the sexy, classy, and chic ones no matter they are sandals, pumps, or booties.

The truth is, pointed-toe shoes are sexier than many other types of shoes. So if you are looking for heeled black booties that are chic and sexy, these are the first ones I will recommend to you.

Related Post: Check out the Secret of Sexy Pointed Toe Heels!
Black Almond Toe Booties
Almond toe shoes are like the mix of the pointed toe and round toe shoes, or you can say they are sharper round toe shoes.

It has the advantage of both types of shoes. For example, pointed toe shoes are stylish but sometimes they have a cold image. And the round toe shoes are like the opposite. Since the almond toe shoes are neutral, they can be stylish and not as cold as pointed toe shoes!

Black Square Toe Booties
Square toe shoes are unique and trendy. If you get tired of other common shoes, these are the ones you may want to try. I guarantee that the square toe shoes can take your outfit to the next level.

Black Peep Toe Booties
Peep toe shoes are the ones that there is cutout at the front so that it reveals your cute toes and toenails.

I will recommend these for transition seasons and summer (cause I don't want your feet feeling cold in winter). When you wear this type of shoes, don't forget to color your toenails and let them look pretty!

Heeled Black Booties with Special Heels
Black Low Heel Booties
I put this on the list for the one who prefers low heels to high heels.

This type of booties has a mannish look, but if you pair them with feminine clothes like skirts and dresses, you will still look pretty (and also get comfy).

Black Block Heel Booties
These are another type of comfy shoes. (Definitely more comfortable than stiletto heels)

By wearing the block heels, you will be less tired when you wear the heels all day long, and also you will walk more confidently. If you need to wear high heels at your work, I highly recommend these.

Black Stiletto Heel Booties
I would say this is the perfect type of shoes for you to wear on a date. Because they are so sexy that it can make the guy attracted to you.

I know wearing stiletto heels is painful and hard to walk, and my suggestion is you better get used to it. Pain proves that you are growing. After you get used to it, you will not feel pain anymore, and a lot of guys will want to get to know you.

Related Post: Check out the Secret of Sexy Stiletto Heels!
Black Round Block Heel Booties
This is another option if you don't like the regular block heel booties.

A round shape is always more feminine than a polygonal shape. So if you want a womanish look, this is a good one for you.

Black Flared Heel Booties
Flared heel is the heel getting wider at the bottom. The natural curves make the shoes way chicer than others. You can absolutely flaunt your fashion sense with these booties!

Black Flat Heel Booties
Flat heel is literally saying the heel is flat. It's interesting that if you look at the shoes from the side, they look like stiletto heels, but if you look at the shoes from the back, they look like block heels. They are kind of like chameleon which I think these shoes really fit women who love to try different styles.

Black Clear Heel Booties
If you feel uncomfortable wearing a pair of clear heels (which means the entire shoes are clear and your feet are shown), how about the black booties with clear heels? I swear that you will get more attention from others when you wear both types of shoes!

Related Post: Check out the Secret of Sexy Clear Heels!
Heeled Black Booties with Special Style
Black Sock Booties
Sock booties are booties that are soft like a pair of socks.

My heeled black booties are like half leather and half sock booties. The ankle parts are so soft and comfortable that they barely hurt my feet and legs. Also, it's very easy to put on and take off my booties.

If you want comfortable and trendy booties, get a pair of sock booties and you will love them!

Black Biker Booties
Biker booties are originated from the booties that bikers wore. But the ones I'm saying in this post are the booties that have biker booties' vibes.

This type of booties may have some eyelets, buckles, studs, etc. which make a tough and cool image. Since biker booties are embellished, it will be good to wear simple clothes to balance the outfit.

Black Lace Up Booties
Lace up booties are classic and casual, which means it's easy to make an effortless daily look with them.

Here is a tip, if you pair lace up heeled black booties with colored socks and a mini skirt or mini dress, you will be the cutest and loveliest woman!

Of course, you can have different styles by pairing them with other items. If you need some inspiration, you can scroll down to the end of this post and see the list I made for you.

Related Post: Check out the Secret of Sexy Strappy Heels!
Black Combat Booties
Combat Booties are military-look booties. I would say this is one of the most iconic heeled black booties.

I wanna recommend these booties to women who have strong personalities and want to be chic and cool. If you are this type of woman, this is perfect for you.

Black Cleated Booties
Also known as Track Sole Booties. Have you noticed that the soles of this type of shoes are different from other shoes? This unique design was used for sports like football, cycling, etc.

However, it became fashionable and popular when this design was applied to a pair of booties. Not only do they look stylish but also they can prevent slip because of the design!

Black Chelsea Booties
To be precise, it's called Chelsea Boots and it's ankle boots (just like booties) rather than over-knee boots. This type of boots can trace back to the 19th century, and because of the influence of Queen Victoria, The Beatles, and Mod, Chelsea boots became one of the most iconic ankle boots in fashion history.

Even though Chelsea boots have lots of variations, generally they have a simple and modern look which I think that's why they can be classic and even popular these days. This is the one you may want to invest in and wear for years.

Black Western Booties
Western booties are the booties that look like what cowboys and cowgirls wear.

It seems awkward to wear this type of shoes for a city woman, but believe me, I saw so many women who wore western booties and completed a look of their own style perfectly. And it's never too late to start from now!

Black Chunky Booties
Chunky booties are booties that have thick soles no matter they are flat or heeled. Kind of like platform shoes but not as exaggerated as they are.

Even though chunky booties may be a little bit heavier, they are still one of the trendiest booties now and worth wearing.

Black Contrast Booties
Do you want a pair of heeled black booties that are unique and different? If so, Contrast Booties might be the one you are looking for.

If not, I just wanna say this could be a chance for you to try something new and something different. (Believe me, it's SO FUN) Plus, a BIG chance for you to improve your fashion sense. Would you like to take that chance?

Heeled Black Booties with Special Material
Sometimes booties that are all black are kind of boring. But you know what? If there is something special on the booties, even if it's just a tiny part, they could look totally different from regular heeled black booties and even look more high-class. For example…
Black Metal Booties
Black leather and shiny metal fit each other so well and the contrast makes a modern look which is perfect for a city woman like you!

Black Buckle Booties
It's hard to find a pair of buckle booties that are stylish and pretty. But it doesn't mean that you shouldn't buy one. Wearing a pair of nice buckle booties like this one not only upgrades your entire outfit but also proves that you have good taste.

Black Studded Booties
Honestly, a pair of heeled black booties that has studs all over is not that sexy. The sexy one is the booties which have studs at the edges. This minimal look makes you a chic woman and also it works well with most of your outfits and several different occasions.

Black Zip Booties
First of all, zips save us so much time to put on and take off our shoes, which is very thankful.

Second, if you are considering buying heeled black booties with zips, I highly recommend buying a pair of booties that have colored zips like gold or silver rather than black. Because zips are like the dangle earrings of your booties. They make your booties prettier and make you more stylish.

Black Chain Booties
It's quite easy to create a look with chain booties. Maybe pairing with a solid dress, or a pair of jeans. No matter how casual and simple you wear, as long as you wear a pair of chain booties with that outfit, then you're a fashionista!

Related Post: Check out the Secret of Sexy Chain Heels!
Heeled Black Booties with Special Texture
Black Mesh Booties
Mesh booties are the ones you want to wear on a date, a party, or a special event. They are so sexy and eye-catching that maybe next holiday when you wear these booties, guys would like to get to know you!

Related Post: Check out the Secret of Sexy Mesh Heels!
Black Ruched Booties
Ruched booties give the regular booties a fresh look. Also, if you find a pair of ruched booties that have wide cuffs like this one, you're lucky because they make your legs look thinner!

Black Elastic Booties
I mentioned that booties with zips can save a great amount of your time. But you know what? Elastic booties can save your time even more!

Elastic booties are booties that have elastic at the sides or around the ankles. If you have elastic booties, you don't even need to pull the zippers! Also, when you wear them, your ankles will feel so comfortable. (I got a pair of heeled black booties like this and I'm so satisfied!!)

Black Knitted Booties
Like most sock booties, knitted booties are slightly sexier than other booties. It's just like you're wearing a black ribbed dress. How can you resist sexiness like this?

Black Suede Booties
Suede is a matt-type leather that has soft and smooth touch. Because of that, you can easily create a classy look by wearing suede booties!

Black Patent Leather Booties
Patent leather booties are made of very glossy leather. They are nice eye-catchers that make your outfit outstanding.

Black Croc Embossed Booties
Wearing Croc Embossed Booties is a way to express your personality and your taste. Wear what you love and be who you want to be. That way, you can enjoy fashion without regret.

Related Post: Check out the Secret of Sexy Animal Print Heels!
What to Pair with Heeled Black Booties?
If you have no idea what to pair with heeled black booties, you can see the list I made for you:
Mini Skirt: This is the outfit that can let people focus on your beautiful legs. Very recommended as a summer outfit.
Maxi Skirt: This is one of my favorite winter looks. You might think it's weird to pair a maxi skirt with heeled black booties but whether it is a straight skirt or a pleated skirt, they work well together!
Jeans: A classic combination. Imagine a day you are too lazy to think what you're going to wear, all you need to do is grab a T-shirt, a pair of jeans, and heeled black booties! Oh, if you are looking for new jeans, check this out: 27 Types of Jeans that Make Your Legs Look Gorgeous.
Jumpsuits: This outfit can make you become the hippest woman in the world. Pick a solid jumpsuit, pair it with heeled black booties, make it simple and stylish.
White Shirt Mini Dress: I wanna say this is one of the sexiest looks ever! By wearing this outfit, you'll be the chicest woman in the city who has great fashion sense.
Black Skinny Pants or Black Stocking: This is a trick that only a few people are aware of. Pairing Black Skinny Pants or Black Stocking with heeled black booties makes your legs look way longer. The tip is to make your pants and your shoes the same color. Just give it a try and you'll know!
Black Leather Jacket: Most of the heeled black booties are made of leather. Since they are black and leather, there is no way that they don't fit a Black Leather Jacket!
I highly recommend that mix and match your clothes with heeled black booties, try all the possibilities that you can in front of the mirror. Not only you will find new outfits that look great but also your styling skill will improve so much! (I improved A LOT by doing this!)
---
Before wrapping up, I would like to share with you some related posts that you might be interested in. (You may have seen them somewhere in this post, but I think it's a waste if you miss out because the information in the posts is so useful!)
If you are a fan of heels, you're gonna love this post: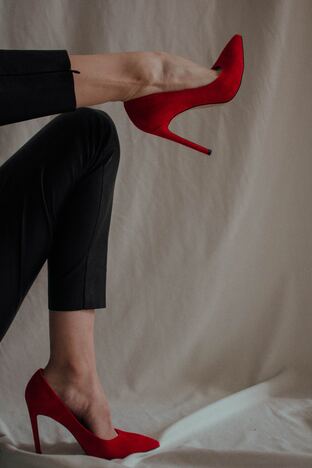 Also, it would be nice to pair heeled black booties with these sexy black dresses:
Hope you enjoy this post and find your ideal heeled black booties.

Leave a comment and let me know which one is your favorite. And I would LOVE to hear why you love it!