Disclosure: The content in this post consists of my original thought, what I learn from the book and information searched online. Feel free to correct me if any part of the content is wrong. Thank you! / Some of the links in this post are affiliate links. This means if you click on the link and purchase the item, I will receive an affiliate commission(No Additional Charge to You). The commission I earn will be used for creating great content in this blog and thank you for your support.
Either you had experienced the 90s or not, if you are a person who wants to know about fashion in the 1990s a little bit deeper, this is what you want. In this post, I will let you know Who's the Fashion Icon in the 1990s, Which movie and Drama represent the Fashion of the 90s, What kind of Style, Color, and Item was 90s' Fashion, last but not least, How to Dress 90s fashion easily. Hope you enjoy the post!
Fashion Icon / Celebrity in the 1990s
Kate Moss: Heroin Chic
Since 1992, model Kate Moss has appeared in Calvin Klein's commercials and campaigns and has been a huge hit. After that, Kate Moss became the supermodel that everyone longed for. Her "Heroin Chic" (a skinny body, a pale complexion, and a morbid look such as drug addiction) is a typical look of the 90s.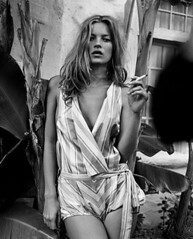 Kurt Cobain: Grunge Fashion
Kurt Cobain is the vocalist, guitarist, and songwriter of the American Rock Band Nirvana. Nirvana's main music genre is Grunge, which is an alternative Rock. Nirvana was an extremely successful rock band in the 1990s (one of the best-selling bands of all time), that's why Kurt Cobain's Grunge Fashion could spread widely.
Spice Girls: 90s Pop Fashion
Pop Fashion is a kind of Fashion that is highly related to popular and mass culture, just like Pop Art and Pop Music. For example, a singer, movie star, or any celebrity's outfit can easily influence the fashion trend.
World-famous fashion designer Victoria Beckham was a member of the British pop group Spice Girls. If you look at the music video of their debut song "Wannabe"(1996), you'll find all the elements of 90s fashion: crop tops, baggy pants, striped jersey pants, miniskirts, platform shoes, etc.
Namie Amuro: 90s Fashion in Japan
Namie Amuro is one of the most successful J-pop artists, Fashion Icon, and Role Model of Japanese females. In 1995, the "Amuraa" phenomenon that young girls imitated Namie Amuro's fashion: Brown Hair, Miniskirt, Platform Long Boots…appeared in Japan and reached its peak in 1996. (The female in the first picture below is Namie Amuro.)
Movie Fashion in the 1990s
There was a problem that many people were addicted to drugs because the price of drugs went down. Therefore, in the 1990s, there were a lot of movies related to drugs such as "Léon: The Professional" in 1994 and "Friday" in 1995, showing the historical background and fashion of the 90s.
Léon: The Professional (1994): Mathilda's Fashion
The heroine of "Léon: The Professional", Mathilda wears a Choker, an Oversized Jacket, and a Crop Top.
Friday (1995): 90s Hip Hop Fashion
"Friday" shows the Hip Hop Fashion that was popular in the 1990s and the Black Americans' Culture realistically. Loose Fit is the main of Hip Hop Fashion, and Oversized (logo) T-shirts, Baggy Pants, Overalls, Bucket Hats, etc. are typical items. Showing the logo of brands (Sagging) such as Calvin Klein has also spread due to the influence of 90s Hip Hop Fashion.
Clueless (1995): Classic Yellow Plaid Outfit
After the movie "Clueless" was released in 1995, the main character's costume: Plaid Suit and Knee High Socks became one of the classic looks of 90s fashion.
Drama Fashion in the 1990s
Friends (1994-2004): 90s Daily Fashion
One of the Most Classic American Dramas "Friends" is about 6 people's daily life. I think that's why this is such a popular TV show. Because the audience feels sympathetic while watching the show. Also, watching this type of drama is the easiest way to catch the fashion of the time.
Sex and the City (1998-2004): Women, Relationships and Fashion
Here is another classic drama "Sex and the City". The story is about 4 women's Life, Relationship, and of course, Fashion. It's fun to observe the fashion style of each character, especially the main character: Carrie (played by Sarah Jessica Parker). She became the Fashion Icon because of the huge success of the drama.
Street Fashion in the 1990s
Hip Hop Fashion: Loose Fit, Baggy Clothes, Sagging
No matter how many years pass by, Hip Hop Fashion still remains the same classic style. One thing I need to mention is "Sagging": Wearing pants or jeans that sag and revealing the wearer's underwear. Believe it or not, this fashion was popularized and easy to see in the 1990s.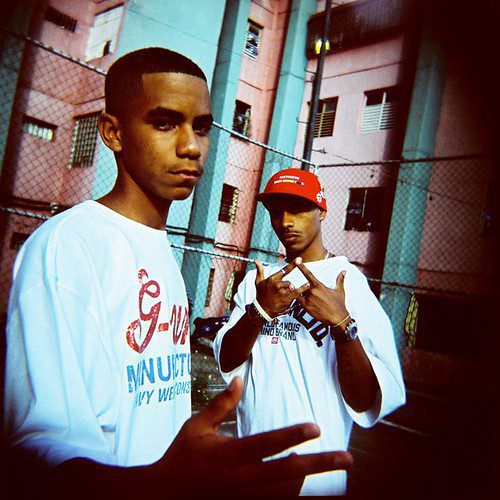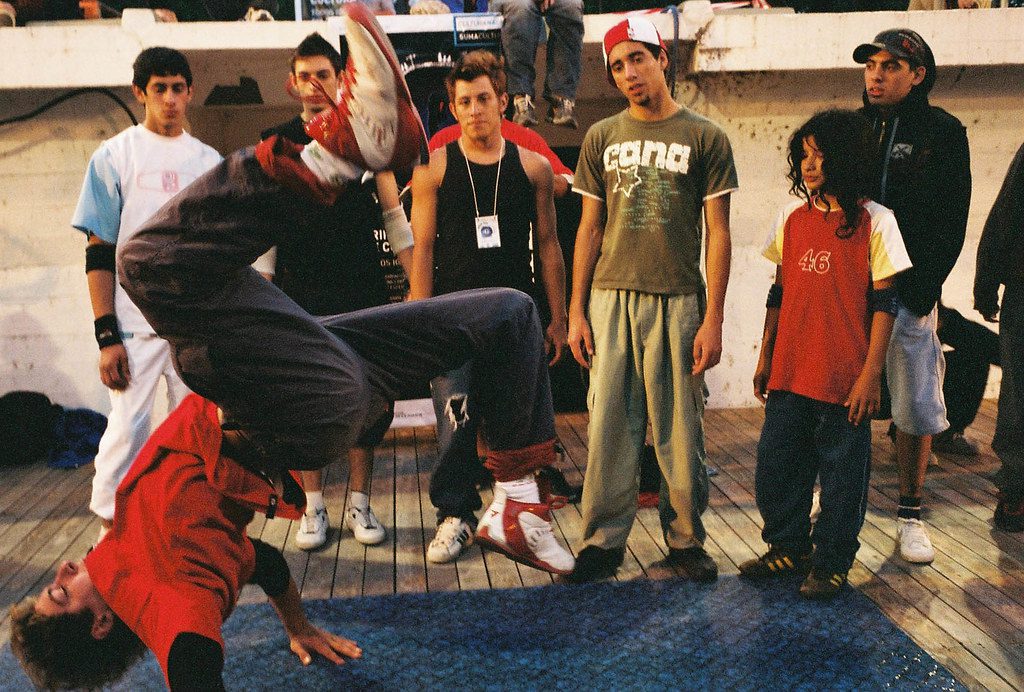 Grunge Fashion: Flannel Shirt, Ripped Jeans, Cardigan
Grunge Fashion has decadent vibes and somehow it is similar to Heroin Chic. Flannel Shirts, Ripped Jeans, Cardigans are the iconic items of Grunge Fashion.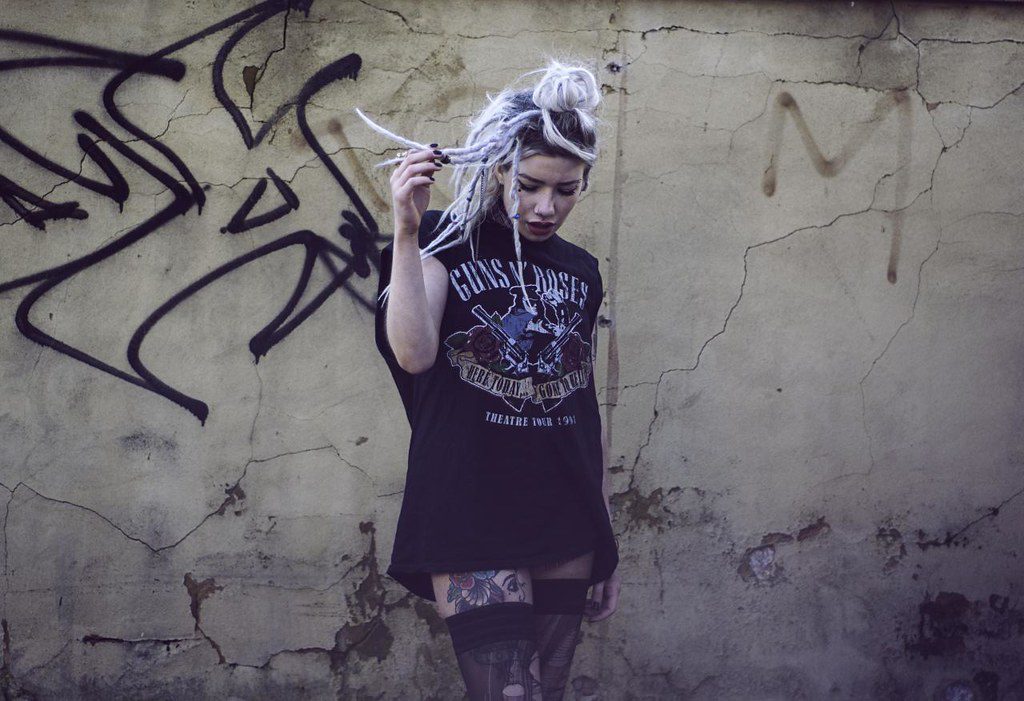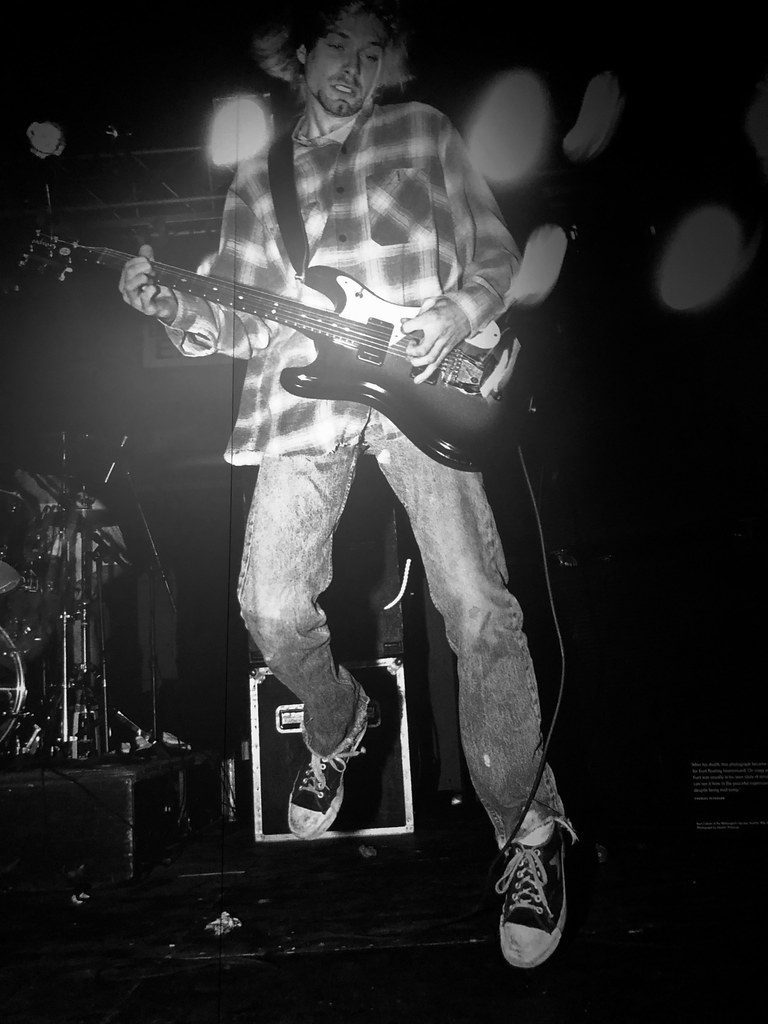 Fashion Color in the 1990s
According to the Authority on Color: Pantone, they picked 6 colors as Colors of the 1990s. Let's check them out! (Some of the information below are what I learned from this book: Pantone The 20th Century in Color by Leatrice Eiseman and Keith Recker. Feel free to click the link to see the details!)
Overcast (PANTONE 14-0105)
It is said that spas grew very fast in the 1990s around the world. People at that time needed a comforting and comfortable place to be relieved. A lot of spas' space is inspired by Zen: A Buddhism term which means spiritual meditation practice and the insight through the practice. Understanding the nature of things is one of the purposes of Zen, so when we concretize Zen, we think of nature. Therefore, part of the 90s' color is influenced by nature as well such as shadow, earth, and plant.

Lead Gray (PANTONE 17-1118)
Being influenced by Grunge and Hip Hop Culture, especially Graffiti, which often shows an individual's strong personality and rebellion, some of the 90s' colors seem to have a dark and faded tone.

Oasis (PANTONE 16-0540)
In the 1990s, people were being negative about the unpredictable upcoming 21 century, meanwhile, they were being positive about the hopeful future. The color Oasis was used to create a hopeful fashion and a happy life.

Super Lemon (PANTONE 14-0754)
Can you believe that Mexican salsa beat the classic ketchup in the 1990s? At that time, Americans wanted something special and that was salsa. Likewise, the colors inspired by the Latin flavors like bright yellow (or orange), red, green, etc. were popular.

Firecracker (PANTONE 16-1452)
In 1998, Apple launched the first iMac and it was a big hit. iMac caught the customers' eyes because it has a trendy design with multiple color options such as blue, orange, purple, green, and cherry. Later, other companies imitated this color palette and used it in their product design. That's why we can see these vibrant colors in some of the 90s products. Of course, it has influenced the fashion industry too.

Scuba Blue (PANTONE 16-4725)
The world-famous video game/anime Pokémon was first released in Japan in 1996, and soon after in the US. Besides, other Japanese animes had been introduced into America as well. So they are the huge factors that affect the colors of the 90s. Usually, the colors in an anime are vibrant, colorful, and most importantly, there's no rule of using colors. The color depends on the intuition of the creators or the character in the amine. Because animes were widely spread, people were free to wear clothes with unique colors as they want.

Fashion Item in the 1990s
Top: Crop Top, Oversized T-shirt, Flannel Shirt
Crop Top is one of the hottest fashion items of today. Because it's short, it looks cute and sexy.
Oversized T-shirt is a nice basic item. You can complete your outfit with it casually. You can create more than one style with a minimalist t-shirt without a print or logo on it. On the other hand, with a print or logo, it has more street fashion vibes.
When we see Flannel Shirt now, it kinda looks old-school. But if we make good use of it, it can still look stylish. It all depends on how we dress up with it.

Bottom: Baggy Pants, Ripped Jeans, Miniskirt, Striped Jersey Pants
Sometimes wearing skinny pants is uncomfortable, that's why people love to wear Baggy Pants (or wide pants). It's comfy and fashionable.
Ripped Jeans are a perfect matching item. You can create several different styles and looks with it.
Miniskirt is not only a must-have fashion item in summer but also a nice matching item in winter. You just need to wear a miniskirt with thick fabric such as tweed or leather and wear a pair of Thigh High Socks and Long Boots. Believe me, you can keep your legs warm and look extremely cute.
When it comes to Striped Jersey Pants (or sweatpants), there must be a sports fashion brand that comes to your mind if you are a person who is interested in fashion. If you don't know what I am talking about, don't worry, I am going to tell you. The brand is Adidas and its Jersey Pants / Sweatpants with 3 stripes on the side is one of the most famous and best-selling fashion items. I guess people love the pants because it looks simple, dynamic and fashionable (Also, they love the brand).

One Piece / Two Piece: Overalls, Plaid Suit
Wearing Overalls kinda look boyish, which is cute. The basic look is matching overalls with any t-shirt. If you want to try something new and special, you can wear a casual style off-shoulder top with the overalls. You will look more feminine and sexy.
I guess most people don't really have a chance to wear a Plaid Suit in their daily life. But I believe it's gonna be fun if you wear it with your best friends, or to go on a date or party. The plaid suit is so eye-catching that you'll definitely be in the spotlight!

Outer: Cardigan, Oversized Jacket
Cardigan is a classic item which means it is a must-have item for everyone. (Click HERE to see other classic items!) If you want to create a classic style outfit, try a Beige, Brown, Gray, Burgundy color cardigan. If you want to try what's trending now, pick a Pink, Mint, or Lilac color cardigan. By the way, a short cardigan is cuter than a long cardigan.
Oversized Jacket is a great street fashion item. I recommend a military green or black bomber jacket, and a blue, black or white denim jacket. What I mentioned above are classic/basic colors. If you think those colors are boring, you can try an oversized jacket with some dramatic colors like pink, red, and neon.

Shoes: Sneakers, Platform Shoes
When it comes to Street Fashion, one of the most indispensable fashion items is Sneakers. It's fashionable and way more comfortable than high heels, no wonder it's so popular!
Platform Shoes is probably the short girls' best friend. Platform shoes and short girls match well because both of them are cute. I recommend short girls wearing platform sandals to look adorable, and tall girls wearing platform long boots to look slim and stylish.

Accessory: Choker, Knee High Socks, Bucket Hat
Remember there was a period that Choker is so popular a few years ago? This means choker is a retro fashion item that it's going to be back in fashion once in a while.
You can wear Knee High Socks (or Thigh High Socks) with Long Boots, Loafers, High Heels, and Sneakers. If you usually wear normal socks (the short ones), it's always good to try a new style!
The difference between Bucket Hat and other hats is that Bucket Hat can make your face look smaller and can make a trendy look. I especially recommend Bucket Hat to the person who has short hair. I know it's difficult to make a change with short hair, but you just need to put on different Bucket Hats on different days. Then you can easily be a fashionista!

How to Dress Fashion in the 1990s?
I was having fun mix and match all these fashion items of the 90s and I wanna share my outfit ideas with you. Hope these 90s Looks are inspirational to you guys! (You can click each item to see the details!)